Scala algorithm:
Single-elimination tournament tree
Published
Algorithm goal
The single-elimination tournament is popular in team games. Represent a tournament tree which enables us to know what games to expect next, and who the overall winner of the tournament is, once the wins have been submitted. Here is a visual representation: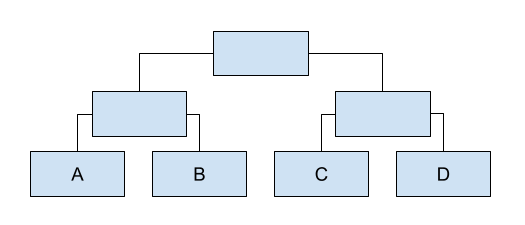 Test cases in Scala
Algorithm in Scala
65 lines of Scala (compatible versions 2.13 & 3.0).
Explanation
There are two aspects of this algorithm: first is to build the tree in-memory, the second is to process inputs in each iteration.
In building the tree, we take every 2 sibling players, and create a sub-tournament. Then each sibling sub-tournament gets combined with the next; we repeat until we are left with no siblings, and that becomes the root of our tournament tree. (this is © from www.scala-algorithms.com)
The leaf nodes are filled in, so they are 'DefinedPlayer', and those games that were not played yet are 'UndefinedPlayer'. Each 'UndefinedPlayer' has a left and a right, which represent the sub-trees that are either defined or not defined by themselves. When both children of an Undefined are defined, it means we now expect a face-off.